IFK Education and Translation Company
educational and translation services
Prestige and quality for you
Japanese study abroad consultant
Organized internships in Japan
Human Resources Introduction
Japanese Language Training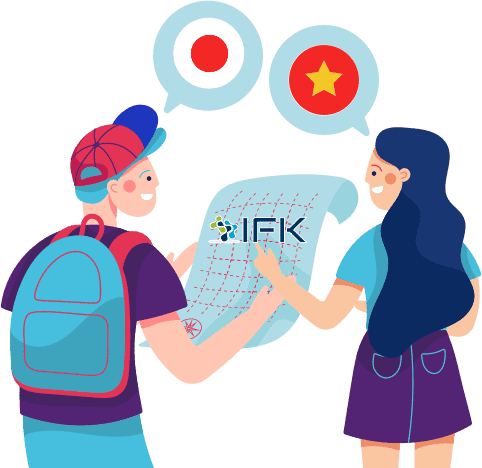 IFK service quality philosophy
IFK Company considers quality as "pleasing customers" and has a quality philosophy of "providing products that always satisfy customers".
Each employee strives to implement a quality philosophy, keeping in mind the principles of action and working style to always ensure quality at all stages and in all fields.
The reason for choosing IFK Education and Translation Services
Service Making customers happy
IFK customers and partners
"Chất lượng tốt, dịch vụ tốt, giá cả phải chăng. Sẽ ủng hộ lâu dài."
Thục Trinh
Thư ký giám đốc
"Dịch vụ tốt, nhanh chóng và tư vấn nhiệt tình, chi phí hợp lý nữa chứ!"
Phúc Nguyên
MC - Marketing
"三日間、とてもありがとうございました。準備する時間もなく本番でしたが、スムーズに進んだことはチンさんのおかげです。."
Suzuki
sales manager